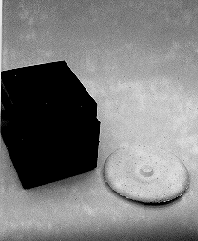 E2-22: UMBRA AND PENUMBRA
PURPOSE: To illustrate umbra and penumbra.
DESCRIPTION: The styrofoam disc casts a shadow of each of the two point sources in the box. The umbra is where the two shadows overlap and the penumbra is where only one source is shadowed. This is an introduction to shadowing by an extended source.
SUGGESTIONS:
REFERENCES: (PIRA 8A10.30)
EQUIPMENT: Double point source and styrofoam disc.
SETUP TIME: None.
---