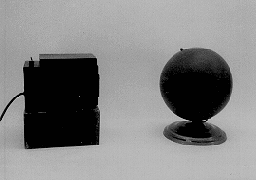 E2-21: PHASES OF THE MOON
PURPOSE: To show the relationship between the phases of the moon and the relative earth-sun-moon positions.
DESCRIPTION: With the lecture hall dark, illuminate the globe from various positions. Phases from crescent to full moon show up very clearly.
SUGGESTIONS:
REFERENCES: (PIRA 8A10.25)
EQUIPMENT: Globe and point source.
SETUP TIME: None.
---