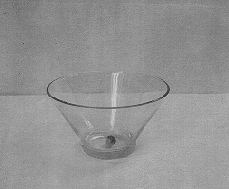 E1-12: MARBLE IN GLASS BOWL
PURPOSE: To demonstrate orbits in a gravitational potential well.
DESCRIPTION: Start the marble rolling tangentially in the bowl to obtain an orbit, then observe the effects of conservation of angular momentum.
SUGGESTIONS: Practice.
REFERENCES: (PIRA 1L20.10) A larger version of this experiment is E1-11: POTENTIAL WELL - MODEL.
EQUIPMENT: Marble and glass bowl.
SETUP TIME: None.
---