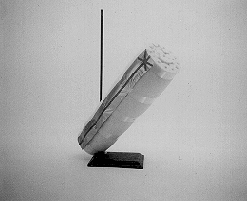 D5-03: FOOTBALL ROTATING ASYMETRICALLY - MODEL
PURPOSE: To model the motion of a football as it rises when rotated.
DESCRIPTION: Here the cylindrical body is rotating about the vertical axis. In explaining why the football rises this device can be used to model the forces between the floor and the football which ultimately cause the football to rise.
SUGGESTIONS:
REFERENCES: (PIRA unavailable.)
EQUIPMENT: As photographed.
SETUP TIME: None.
---