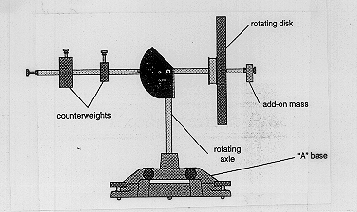 D4-01: GYROSCOPE WITH COUNTERWEIGHTS
PURPOSE: To illustrate precession and nutation with a precision gyroscope.
DESCRIPTION: Start the massive flywheel rotating and observe no precession when the flywheel is statically balanced with the counterweights. Unbalancing the counterweights creates precession of the gyroscope. Lifting the unbalanced gyroscope slightly before releasing it results in nutation.
SUGGESTIONS:
REFERENCES: (PIRA 1Q50.10) See Demonstration Reference File for several experiments in manufacturer's instruction book for this gyroscope.
EQUIPMENT: Gyroscope with counterweights, as pictured.
SETUP TIME: None.
---