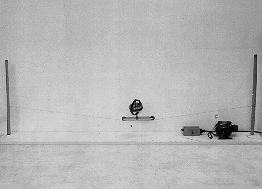 D4-22: MONORAIL CAR
PURPOSE: To demonstrate gyroscopic stability.
DESCRIPTION: The gyroscope on the car is driven to a high rotational speed using a motor. The car will then remain balanced on the wire for over thirty seconds.
SUGGESTIONS:
REFERENCES: (PIRA 1Q50.71)
EQUIPMENT: Car, tight wire on stand, accelerating motor.
SETUP TIME: None.
---