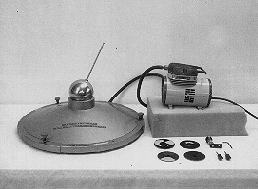 D4-10: AIR GYROSCOPE
PURPOSE: To show gyroscopic effects in a relatively friction-free system.
DESCRIPTION: A variety of effects can be illustrated with this device, including precession, nutation, effect of forces, etc.
SUGGESTIONS: Be gentle with this device, especially the metal ball, as it can be easily damaged. Place cushion under the ball before moving the device. Set the compressor on the floor on a rubber pad to isolate its vibrations.
REFERENCES: (PIRA 1Q50.45) An excellent and very inclusive technical manual is available in the Demonstration Reference File. A copy of this manual is kept with the gyroscope. Several other articles discussing this device are also available.
EQUIPMENT: Air gyroscope with attachments, as photographed.
SETUP TIME: None.
---