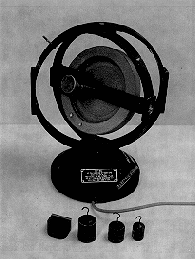 D4-06: ELECTRIC GYROSCOPE
PURPOSE: To demonstrate gyroscopic motion and forces.
DESCRIPTION: The gyroscope, in gimbal rings, is driven by an electric motor to allow continuous use. Weights can be added to cause precession. Pushing on the various rings creates concomitant change of orientation of the gyroscope. What might happen if a magnet is held close to the rotating metallic flywheel?
SUGGESTIONS: Ask students to predict what will happen if various forces are exerted on the various rings.
REFERENCES: (PIRA 1Q50.30) See Demonstration Reference File for information on this apparatus as well as papers on this type of gyroscope.
EQUIPMENT: Electric gyroscope, magnet, 50g, 100g, and 200g masses.
SETUP TIME: None.
---