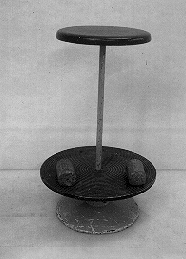 D3-04: ROTATING STOOL AND WEIGHTS
PURPOSE: To demonstrate conservation of angular momentum.
DESCRIPTION: A subject sits on the stool, with his or her arms extended, holding the weights. After the system is set into rotation, the subject pulls the weights in to his or her chest, decreasing the moment of inertia of the system and thus increasing the angular speed of the system.
SUGGESTIONS: BE CAREFUL. A subject can easily be rotated off the stool.
REFERENCES: (PIRA 1Q40.10)
EQUIPMENT: Rotating stool with weights.
SETUP TIME: None.
---