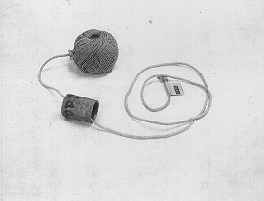 D3-02: MASS ON STRING - ORBITS WITH VARYING RADIUS
PURPOSE: To illustrate conservation of angular momentum.
DESCRIPTION: Rotate the mass on the string with the central end of the string passing through the tubular metal collar. Pulling the string decreases the radius of the ball, thus decreasing the moment of inertia and increasing the angular speed of the ball.
SUGGESTIONS:
REFERENCES: (PIRA 1Q40.25)
EQUIPMENT: Ball of string and metal tube.
SETUP TIME: None.
---