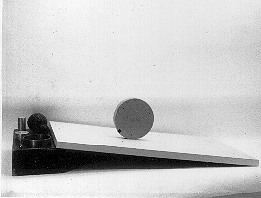 D2-02: MISCELLANEOUS BODIES ON INCLINED PLANE
PURPOSE: To show the effect of moment of inertia on the acceleration of bodies rolling down an incline.
DESCRIPTION: Different objects are rolled from rest down an incline, and their accelerations compared. The acceleration is less for those bodies with the smaller radius of gyration (square root of the moment of inertia per unit mass). Available rollers include rings, discs, and solid spheres of different masses and radii. Also included is a weighted disc which will remain at rest on the incline as shown in the photograph.
SUGGESTIONS:
REFERENCES: (PIRA 1Q10.30) See Demonstration Reference File as well as other demonstrations in this group.
EQUIPMENT: Inclined plane with large box of rolling bodies.
SETUP TIME: None.
---