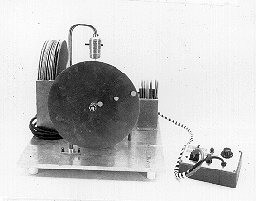 D1-38: MAGNETSLINGER
PURPOSE: To demonstrate that centripetal force varies with radius.
DESCRIPTION: Magnets are stuck at three radii on a rotating disc. As the angular velocity is continually increased, the outer magnet flies off first, and the inner magnet last, assuming that the magnetic forces are equal. This is a direct result of the fact that the centripetal force required is proportional to the radius of rotation.
SUGGESTIONS:
REFERENCES: (PIRA 1D55.30)
EQUIPMENT: Variable speed motorized rotator, magnetic stainless steel disc with three small magnets.
SETUP TIME: None.
---