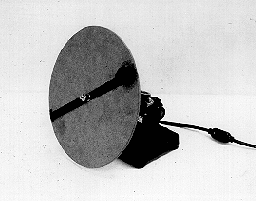 D1-37: MUDSLINGER
PURPOSE: To illustrate centripetal force, and to show that the instantaneous velocity of an object executing uniform circular motion is tangent to the circle.
DESCRIPTION: A small glob of putty is stuck to the edge of a rotating disc. As the angular velocity is increased, at some point the force holding the putty will no longer be sufficient to provide the necessary centripetal force, and the putty leaves the rotating disc, moving tangentially away from the point of release.
SUGGESTIONS: Keep clear. Operate in vertical orientation.
REFERENCES: (PIRA 1D55.30)
EQUIPMENT: Rotator with disc and putty.
SETUP TIME: None.
---