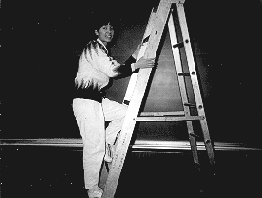 C8-32: POWER - CLIMBING LADDER
PURPOSE: A simple method for illustrating power and the unit of the horsepower.
DESCRIPTION: Climb the ladder at a constant rate, say one foot per second. From your weight you can then calculate your power, in foot-pounds per second or in horsepower.
SUGGESTIONS:
REFERENCES: (PIRA unavailable.)
EQUIPMENT: Ladder, climber.
SETUP TIME: None.
---