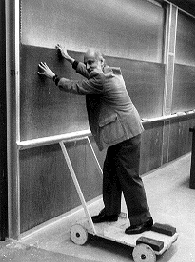 C8-23: WORK DONE BY PUSHING ON WALL
PURPOSE: Illustrates that the wall and the floor do no work.
DESCRIPTION: The instructor, while standing on a cart weighted with two lead bricks, pushes off against the wall. The energy comes from the pusher, not from the wall or the floor or the air.
Be careful. This can be dangerous if you get unbalanced. Of course, this danger to the instructor heightens the interest of the students.
SUGGESTIONS:
REFERENCES: (PIRA unavailable.)
EQUIPMENT: Cart with non-rotating wheels, two lead bricks.
SETUP TIME: none.
---