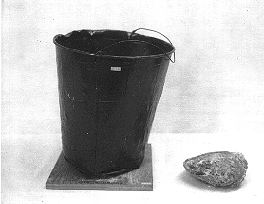 C8-21: ROCK AND WASTE BASKET
PURPOSE: To demonstrate conservation of energy in a humorous way.
DESCRIPTION: Hold the rock up head high and drop it into the waste basket. Use the board to prevent damage to the floor. Have your students list all the possible types of work and energy involved, such as work done lifting the rock, gravitational potential energy, kinetic energy, heat, sound, and energy of deformation.
SUGGESTIONS:
REFERENCES: (PIRA unavailable.)
EQUIPMENT: Rock, waste basket, and board, as photographed.
SETUP TIME: None.
---