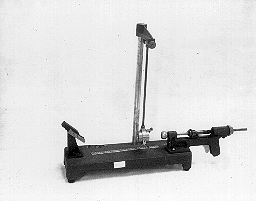 C7-52: BALLISTIC PENDULUM - LABORATORY MODEL
PURPOSE: To demonstrate operation of the standard laboratory type ballistic pendulum.
DESCRIPTION: A heavy ball is placed on the compressed spring, as shown in the photograph, and released by pulling the trigger. The ball fires into a catch on the bob of a physical pendulum, causing the bob to swing to a large angle, where it is caught by a ratchet system.
Due to lack of time, this device is generally demonstrated only qualitatively during regular class lectures. Appropriate condiments can be delivered if complete measurements are desired.
SUGGESTIONS:
REFERENCES: (PIRA 1M40.41) See Demonstration Reference File for further information about this device, including details of making measurements.
EQUIPMENT: Ballistic pendulum, as photographed.
SETUP TIME: None.
---