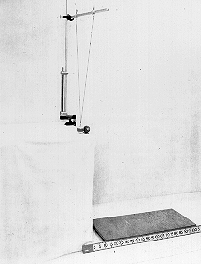 C7-21: ENERGY AND MOMENTUM - COLLISION AND PROJECTILE
PURPOSE: To illustrate conservation of momentum and conservation of energy.
DESCRIPTION: A pool ball, suspended as a pendulum of length L, is released from an angle a and collides with an identical pool ball initially at rest. The second pool ball then immediately projects horizontally off the edge of the lecture table of height H. The range R of the projected ball is given by
R = 2 SQRT [ LH (1 - cos a)]
SUGGESTIONS:
REFERENCES: (PIRA unavailable.) See Demonstration Reference File for derivation of equations.
EQUIPMENT: Billiard ball on bifilar suspension with support assembly, loose billiard ball, rubber pad, target board, and meter stick, assembled as photographed on request.
SETUP TIME: 15 min.
---