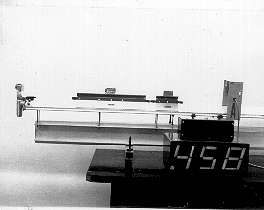 C7-04: AIR TRACK - COLLISION VELOCITY MULTIPLIER
PURPOSE: To illustrate velocity multiplication with a three-to-one mass ratio collision.
DESCRIPTION: Air track gliders with masses in the ratio of three to one, moving with the same speed, collide with the end of the air track. After the collision sequence, the larger glider remains at rest while the smaller glider leaves with twi ce its initial speed, thus carrying away the total kinetic energy of both gliders before the collision.
SUGGESTIONS:
REFERENCES: (PIRA 1N30.20) See Demonstration Reference File for information regarding the collision sequence. See also Demonstration C7-15: COLLISIONS OF BALLS - 3 TO 1 MASS RATIO.
EQUIPMENT: Air track, photocell gate timer if desired, gliders from elastic collision set.
SETUP TIME: 5 min.
---