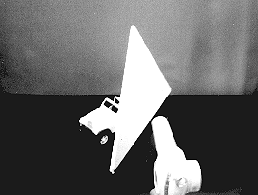 C5-32: SAILING UPWIND - HAIRDRYER AND SAILBOAT
PURPOSE: To illustrate how a sailboat can sail upwind.
DESCRIPTION: A sailboat is modeled by a toy car; the car wheels allow motion only in the forward/backward direction, thus performing the function of the keel. When the sail is set at the proper angle on the boat, and the wind blows at the proper angle onto the sail, the boat will move with some velocity component in the direction from which the wind is coming.
SUGGESTIONS:
REFERENCES: (PIRA 1J30.60) See Demonstration Reference File for a number of sailboat demonstrations as well as discussions of tacking with real sailboats.
EQUIPMENT: Toy car with sail and hair dryer, as photographed.
SETUP TIME: None.
---