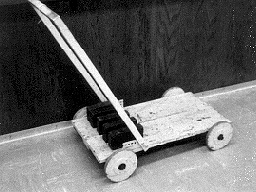 C5-19: ACTION AND REACTION - INSTRUCTOR AND CART
PURPOSE: Demonstrate action-reaction pairs in a dramatic way.
DESCRIPTION: The instructor jumps off the cart and the cart moves in the opposite direction. The mass of the cart can be decreased by removing some of the lead bricks, but if the cart is too light it can become dangerous. Of course, the danger to the instructor heightens the interest in the experiment for the students.
SUGGESTIONS: Please be careful.
REFERENCES: (PIRA unavailable.)
EQUIPMENT: Wood cart with unidirectional wheels, five lead bricks.
SETUP TIME: 5 min.
---