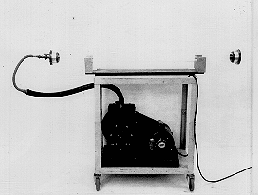 C4-32: FREE FALL IN VACUUM - GUINEA AND FEATHER
PURPOSE: To demonstrate that bodies of extremely different densities fall with equal acceleration in the absence of air friction.
DESCRIPTION: A long tube with a small weight and a feather inside is evacuated. Upon evacuation the weight and the feather fall with the same acceleration. With air in the tube, the feather falls much more slowly than the weight.
SUGGESTIONS:
REFERENCES: (PIRA 1C20.10) See Demonstration C4-33, which is a more visible version for the large lecture halls.
EQUIPMENT: Tube with weight and feather inside, mounted on vacuum pump cart as photographed.
SETUP TIME: 5 min.
---