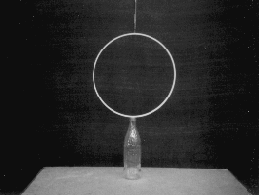 C3-05: INERTIA - PEN IN BOTTLE
PURPOSE: To illustrate inertia of rest.
DESCRIPTION: The felt tip end of a Pilot pen is balanced on a 12" embroidery hoop, which in turn is balanced on a Coca-Cola bottle. Yanking the hoop out from under the pen by the leading side allows the pen to fall straight dow nward into the Cola bottle.
SUGGESTIONS: Balancing this thing requires a good deal of practice and/or skill!!
REFERENCES: (PIRA 1F20.36) See Demonstration Reference File for further description of this demonstration.
EQUIPMENT: Cola bottle, 12" embroidery hoop, and Pilot pen,
SETUP TIME: None.
---