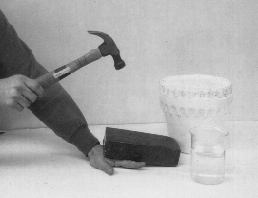 C3-04: INERTIA - LEAD BRICK AND HAND
PURPOSE: To illustrate inertia of rest in a dramatic way.
DESCRIPTION: Place the lead brick gently on your fingers and strike the lead brick sharply with the hammer. The inertia off the lead brick prevents damage to your fingers.
SUGGESTIONS: Drama can be added by palming a bit of dry ice before dipping your hand into the water to "dissipate the energy transferred to your hand during the collision."
REFERENCES: (PIRA 1F20.20)
EQUIPMENT: Lead brick and hammer; dry ice and beaker of water are optional.
SETUP TIME: None. (Allow 15 min. to obtain dry ice if requested.)
---