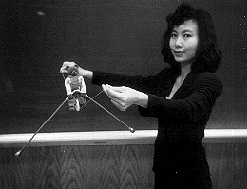 C1-04: CENTER OF MASS - BEAR ON TIGHT ROPE
PURPOSE: Show stability in system where the center of mass is outside of the object.
DESCRIPTION: As the bear rolls along the tightrope, it remains stable because its center of mass is below the rope. Removing the weights and poles renders the system unstable.
SUGGESTIONS:
REFERENCES: (PIRA unavailable.)
EQUIPMENT: Bear on unicycle with detachable weight poles, string.
SETUP TIME: None.
---