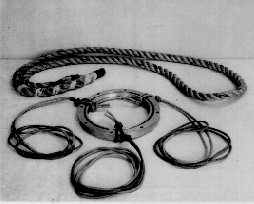 B2-14: SUM OF FORCES - LARGE ROPE VERSION
PURPOSE: To develop a feel for equilibrium of forces on a large scale.
DESCRIPTION: Two or three people can pull ropes in various directions to find combinations of forces and directions that result in equilibrium.
SUGGESTIONS:
REFERENCES: (PIRA unavailable.)
EQUIPMENT: Section of heavy rope; three ropes attached to ring.
SETUP TIME: None.
---