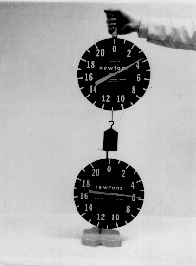 B2-02: SUM OF FORCES - SPRING SCALES
PURPOSE: To show that the sum of forces exerted on the mass by the scales is constant.
DESCRIPTION: The weight is set on the scale platform, and the upper spring scale hooked to the weight. As an upward force is applied, the sum of the readings of the two spring scales remains constant, equal to the initial weight on the platform.
SUGGESTIONS:
REFERENCES: (PIRA unavailable.)
EQUIPMENT: Spring scale, platform spring scale, 1 kg mass, as photographed.
SETUP TIME: None.
---