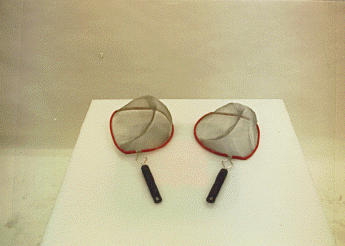 A2-17: CLOSED CURVES AND CAPPING SURFACES
PURPOSE: To illustrate various complicated closed curves.
DESCRIPTION: Distorted strainers illustrate possible choices for closed surfaces.
SUGGESTIONS: These three-dimensional models can be used to illustrate some variety in choice of closed surfaces when refering to Gauss' Law or Stokes' Theorem.
REFERENCES: (PIRA unavailable.)
EQUIPMENT: Two distorted strainers, as photographed.
SETUP TIME: None.
---