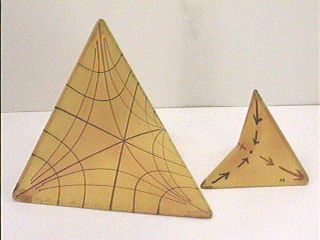 A2-16: SADDLE POINT MODEL
PURPOSE: To illustrate the geometry of a saddle point.
DESCRIPTION: Large model shows equipotentials and lines of force. Small model shows force vectors and the "neutral point."
SUGGESTIONS: Can be useful in gravitation and electrostatics.
REFERENCES: (PIRA 8C10.50)
EQUIPMENT: Saddle point models, as photographed.
SETUP TIME: None.
---