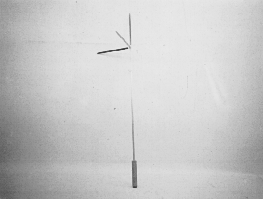 A2-02: XYZ AXES ON EXTENDED HANDLE
PURPOSE: To aid in discussing angular momentum and torque problems.
DESCRIPTION: Hold the model out and down toward the floor as you rotate. The colors on the three axes are useful in identifying the three vectors, e.g. L, r, and v.
SUGGESTIONS:
REFERENCES: (PIRA unavailable.)
EQUIPMENT: Coordinate axes on extended handle, as photographed.
SETUP TIME: None.
---