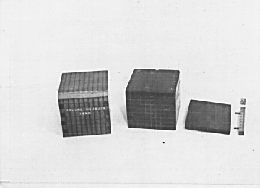 A1-31: VOLUME MEASURE DEMONSTRATION
PURPOSE: To illustrate metric volume units.
DESCRIPTION: Two 1000 cc (1 liter) blocks are available from which smaller units of volume (10 cc and 1 cc) can be removed.
SUGGESTIONS: Try not to lose the small blocks.
REFERENCES: (PIRA 1A10.50 )
EQUIPMENT: Two one-liter cubes with removable parts, as photographed.
SETUP TIME: None.
---