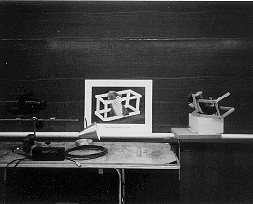 O4-34: IMPOSSIBLE CRATE
PURPOSE: Impossible crate illusion.
DESCRIPTION: A toy animal is positioned in an impossible crate, which can be viewed by a TV camera or individually by interested parties. The real crate is at the right, and a picture taken from the "correct" position is at the left.
SUGGESTIONS:
REFERENCES: (PIRA unknown.)
EQUIPMENT: Impossible crate with fuzzy little animal.
SETUP TIME: None.
---