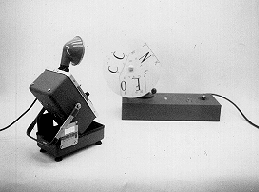 O2-21: STROBOSCOPIC CENCO
PURPOSE: Demonstrate persistence of vision using strobosccope.
DESCRIPTION: A disc contains the letters C E N C O in apparently random order. When the disc is spun rapidly and illuminated by a stroboscope at the right frequency, the word CENCO is clearly formed, accomplishing their advertising goal.
SUGGESTIONS:
REFERENCES: (PIRA unknown.)
EQUIPMENT: Stroboscope with CENCO disc.
SETUP TIME: None.
---