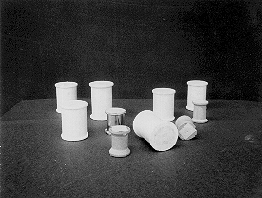 O1-41: FLOATERS
PURPOSE: Individual observation of floaters in the eye.
DESCRIPTION: Each spool has a dark paper across both ends with a pinhole in the center. Viewing a distant light through the pinholes with the spool very close to your eye produces a nearly parallel light beam through your eye onto your retina. Red blood cells located directly in front of your retina diffract this parallel light, causing dark circle diffraction patterns on the retina.
SUGGESTIONS:
REFERENCES: (PIRA unknown.) Compare with diffraction of laser light M2-02: LASER DIFFRACTION - OPAQUE DISCS
EQUIPMENT: Spools with end covers with pinholes.
SETUP TIME: None.
---