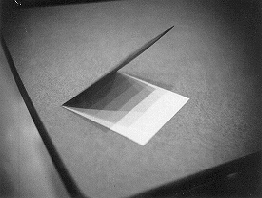 O1-31: MACH BANDS
PURPOSE: Demonstrate Mach bands.
DESCRIPTION: Cast a shadow of a row of lights onto a sheet of light paper or folded cardboard. The photograph shows one made by shadows of a series of identical equally-spaced lecture hall ceiling incandescent bulbs. Although the illuminantion of the series of gray areas is actually constant for each area, the phenomenon of simultaneous contrast in the eye causes the area to look darker adjacent to a lighter area and lighter adjacent to a darker area.
SUGGESTIONS:
REFERENCES: (PIRA unknown.) See Demonstration Reference File for further information about this phenomenon.
EQUIPMENT: Folded piece of manilla file folder.
SETUP TIME: None.
---