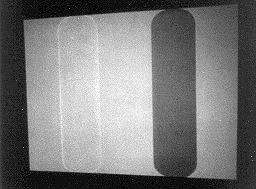 O1-21: CHROMATIC ABERRATION IN EYE
PURPOSE: Observe chromatic aberration in your eye.
DESCRIPTION: A slide having green and cyan segments superposed on a red background, is projected onto a screen. Chromatic aberration in the eye diffuses the boundary between any of the two pairs of colors, causing a blurry white or gray line at the center.
These colors were chosen because they are complements as seen by various eyes. One or both of the pairs of colors will mix to form white when viewed by virtually anyone's eyes.
SUGGESTIONS:
REFERENCES: (PIRA 6J10.60)
EQUIPMENT: Slide with red background and green and cyan segments (DF 14-7 from the Falk slide collection).
SETUP TIME: None.
---