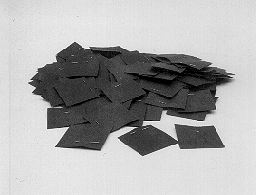 O1-04: IMAGE INVERSION ON RETINA - INDIVIDUAL VIEWING
PURPOSE: Individual demonstration of image inversion on retina.
DESCRIPTION: Hand out small squares of black paper with pins to the class members to do this experiment.
Punch a pinhole in the paper and hold the paper about an inch from your eye (within the near point of the eye) while viewing a white surface through the pinhole. Raise the pinhead from below into the line of sight between the pinhole and your eye. Because the "image" is actually a shadow on the retina, it is not inverted by the eyelens, and appears to be coming from above.
SUGGESTIONS: Don't poke yourself in the eye with the pin. Demonstration O1-22: SPHERICAL ABERRATION OF EYE USING PINHOLE also uses the black paper and pinhole; do both at the same time.
REFERENCES: (PIRA 6J10.40) See Demonstration O1-03: IMAGE REVERSAL ON RETINA for a group demonstration of this effect.
EQUIPMENT: Small squares of black construction paper with pins.
SETUP TIME: None.
---