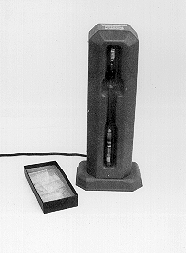 N2-07: DIFFRACTION SPECTRUM OF HYDROGEN - HOLOGRAPHIC GRATINGS
PURPOSE: Individual viewing of the Balmer series of hydrogen.
DESCRIPTION: The hydrogen spectral tube, used with its power supply as shown, is viewed individually by students holding small mounted pieces of holographic grating. The holographic grating produces a brighter but less dispersive spectrum than the standard replica grating, but is necessary because the hydrogen tube is not very bright. Please collect the holographic gratings; they are a bit more pricey than the hand-held replica gratings cut from a roll of material.
SUGGESTIONS: This one is best for smaller groups.
REFERENCES: (PIRA 7B10.40)
EQUIPMENT: Hydrogen tube in power supply with holographic gratings.
SETUP TIME: None.
---