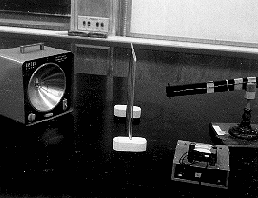 M9-11: MICROWAVES - ELLIPTICAL POLARIZATION
PURPOSE: Show properties of an elliptically polarized microwave beam.
DESCRIPTION: A dipole antenna with a spiral shape can produce an elliptically or circularly polarized microwave beam. The beam will go through a wire cookie cooler rack oriented either direction. (See Demonstration M7-01: MICROWAVES - POLARIZA TION for the case of a linearly polarized wave. The elliptically polarized wave will be picked up by the receiving antenna in either vertical or horizontal orientation.
SUGGESTIONS:
REFERENCES: (PIRA unknown.)
EQUIPMENT: Microwave source with spiral antenna, microwave receiver antenna with 10 microampere overhead projector meter, and wire cookie cooler rack.
SETUP TIME: 5 min.
---