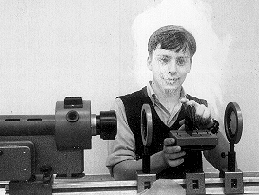 M7-34: ROTATION OF POLARIZATION - POLAROID AND WAX PAPER
PURPOSE: To demonstrate two ways to change the polarization of light.
DESCRIPTION: Light from a bright point source with condenser lens and iris passes through two polaroids to the observer. Crossing the polaroids stops light from reaching the observer. Inserting a third polaroid at an angle between the two crossed polaroids allows light to pass. That light can be stopped by rotating one of the other polaroids, demonstrating the component of a component of the vector electric field. Inserting a sheet of wax paper between the crossed polaroids causes a large amount of random depolarization due to multiple scattering. Rotating either of the originally crossed polaroids cannot stop the light, demonstrating that the depolarization by scattering is not a coherent process.
SUGGESTIONS:
REFERENCES: (PIRA unknown.)
EQUIPMENT: Bright point source with mounted crossed polaroids, extra polaroid, wax paper.
SETUP TIME: 5 min.
---