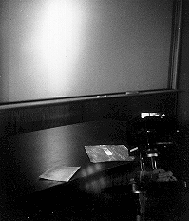 M7-17: REFLECTION OF LIGHT FROM DIELECTRIC AND CONDUCTOR
PURPOSE: Show how polaroid sunglasses use polarization off dielectric surface.
DESCRIPTION: When sunlight reflects off a horizontal surface such as water in a lake, wet roads, or even dry smooth roads, the reflected light is largely horizontally polarized. Polaroid sunglasses are oriented vertically so they remove "glare, " which is specular reflection from such surfaces.
Position the point source so that it reflects from the lecture table onto the front white screen at about the Brewster angle. Rotating a polaroid in the light from the point source before reflection shows clearly that the reflected light is polarized. Individually viewing the reflected light directly using a polarizing filter demonstrates the value of polaroid sunglasses in removing glare. Placing a piece of aluminum foil where the light hits the table demonstrates that reflection from a conducting surface is not polarized.
SUGGESTIONS:
REFERENCES: (PIRA unknown.)
EQUIPMENT: Bright point source with condenser and iris on tilting optical rail table, lecture table top, aluminum foil, and polarizing sheet.
SETUP TIME: 5 min.
---