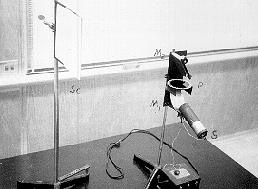 M7-15: LINEAR AND ELLIP POLARIZATION - REFL FROM DIEL AND COND
PURPOSE: To demonstrate polarization effects in reflections from dielectric and conducting surfaces.
DESCRIPTION: The gizmo in the picture contains a collimated light source and a reflecting dielectric surface at approximately the Brewster angle, which can be rotated as a unit about a vertical axis, a polaroid, and a second reflecting dielectric surface. The light emerges to strike a screen, at the left. The light reflected off the lower reflector is polarized in the plane of the reflector, which can be verified either by rotating the central polarizing sheet or rotating the light/reflector unit so that the two reflecting surfaces bend the beam in orthogonal planes.
Conducting (metallic) surfaces can be substituted for the dielectric surfaces, showing that there is no polarization in reflection from conducting surfaces.
SUGGESTIONS:
REFERENCES: (PIRA 6H20.20)
EQUIPMENT: Mounted polarization by reflection setup with screen and polarizing sheet.
SETUP TIME: None.
---