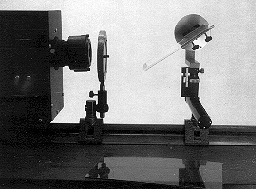 M7-12: BREWSTER'S ANGLE - POLAROID AND TWO REFLECTORS
PURPOSE: To demonstrate polarization by reflection.
DESCRIPTION: Light from a bright point source passes through a polarizer and strikes a dielectric reflector. The mounted reflector is set to Brewster's angle, as shown in the photograph. All reflected light can be eliminated in one of two ways : (1) rotate the polaroid in front of the lamp to only pass vertically poalrized light, or (2) hold the plastic sheet (on table in front of apparatus) at Brewster's angle with the reflection perpendicular to the plane of the original bend.
SUGGESTIONS:
REFERENCES: (PIRA 6H20.10)
EQUIPMENT: Bright point source with condenser lens, polarizer, dielectric reflector on calibrated rotator, and plastic sheet.
SETUP TIME: 5 min.
---