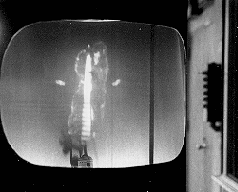 M6-13: HOLOGRAM - MULTIPLEX - KING KONG
PURPOSE: Walk-by multiplex hologram.
DESCRIPTION: As you walk by the hologram from left to right, King Kong grabs the woman in his hand. This is a neat gizmo, but doesn't get the attention of the others (M6-11 and M6-12). It is not as exciting as baseball players, and not as sexy as the young woman throwing a kiss, but does have a special appeal to animal lovers.
SUGGESTIONS:
REFERENCES: (PIRA 6Q10.00) See Demonstration Reference File for information including the way in which these holograms are made.
EQUIPMENT: Walk-by multiplex hologram.
SETUP TIME: None.
---