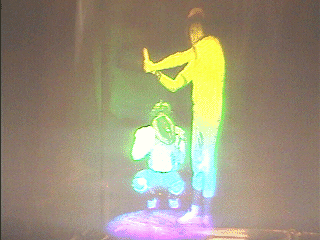 M6-11: HOLOGRAM - MULTIPLEX - BASEBALL
PURPOSE: Rotating 360 degree multiplex hologram.
DESCRIPTION: The hologram, lit by a clear long-filament bulb in the spherical base, shows motion of the ball players as the frame rotates. This is a neat gizmo, and really gets the attention of young children.
SUGGESTIONS:
REFERENCES: (PIRA 6Q10.00) See Demonstration Reference File for information including the way in which these holograms are made.
EQUIPMENT: 360 degree multiplex hologram on rotating stand.
SETUP TIME: None.
---