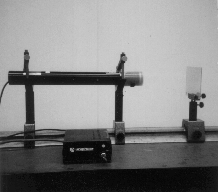 M6-02: HOLOGRAM - LASER LIGHT - THE SCIENTIST
PURPOSE: View a laser light hologram.
DESCRIPTION: The hologram, a clear glass plate, is illuminated from a distance of a few meters by a laser beam. The angle at which the laser beam strikes it must be adjusted for the best view. The proper view is seen by observing transmitted light at an angle on one side of the laser axis. However, if you view reflected light or look at the laser at a different angle (opposite the axis of the laser beam) the hologram appears backwards or upside down! Go figure that one out.
We also have some pieces of a broken one. You can actually see the entire holographic image by holding a small piece of the broken hologram in the laser beam.
SUGGESTIONS:
REFERENCES: (PIRA 6Q10.00)
EQUIPMENT: The Scientist hologram with laser and beam spreader.
SETUP TIME: 5 min.
---