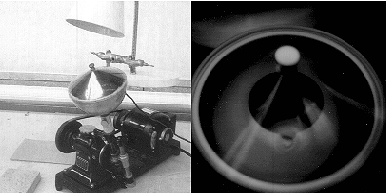 M4-23: SOAP FILM INTERFERENCE - ROTATING HEMISPHERE
PURPOSE: Demonstrate circular soap film interference patterns.
DESCRIPTION: The rotation of the soap film produces a radial thickness gradient, which leads to rings of color around the soap film. The center becomes black because it is less than one-quarter wavelength thick.
SUGGESTIONS: This is a neat demonstration but is a bit tedious to operate.
REFERENCES: (PIRA unknown.)
EQUIPMENT: Gooseneck lamp with 100 watt bulb, soap film rotator with soap solution.
SETUP TIME: 10 min.
---