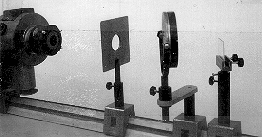 M4-12: DICHROIC FILTERS
PURPOSE: Show how dichroic filters work.
DESCRIPTION: These filters are glass plates that contain a series of equally spaced high refractive index dielectric layers. The layers reflect light of a particular wavelength, leading to destructive interference, so the reflected and transmit ted light are complementary colors. The filter is labeled by the transmitted color, so a red filter transmits red and reflects cyan, a blue filter reflects yellow, a green filter reflects magenta, and a yellow filter reflects blue. To facilitate re-mixi ng and display, the spacing of the reflective layers in these filters are designed for light incident at 45 degrees.
SUGGESTIONS:
REFERENCES: (PIRA unknown.)
EQUIPMENT: Bright point source with condenser lens and iris, 20cm focal length convex lens, red, yellow, green and blue dichroic filters, and plane mirror.
SETUP TIME:
---