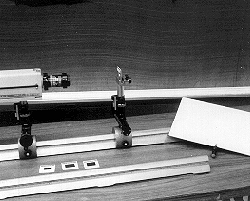 M2-11: LASER DIFFRACTION - FRESNEL ZONE PLATES
PURPOSE: To demonstrate focusing by a Fresnel zone plate.
DESCRIPTION: Positioning a Fresnel zone plate along the axis of the laser beam creates focusing of the beam by the zone plate. A beam expander is used to make the laser beam wider before it encounters the zone plate. Fresnel zone plates are available in 5cm, 10.5cm, 30cm, and 2.3m focal lengths. Position the screen at a distance of one focal length from the zone plate to see the focus.
SUGGESTIONS:
REFERENCES: (PIRA 6C20.40)
EQUIPMENT: Laser with beam expander on laser cart with Fresnel zone plate slides.
SETUP TIME: None.
---