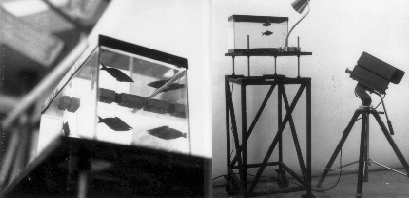 L5-03: FISH IN TANK - TOTAL INTERNAL REFLECTION
PURPOSE: To illustrate total internal reflection.
DESCRIPTION: The fish is seen once directly through the side. Other views are reflected off the back of the tank, reflected off the water surface, and reflected off both the water surface and the back of the tank. To see this view the tank must be observed from below and at an angle, as shown in the photograph at the right.
SUGGESTIONS:
REFERENCES: (PIRA 6A44.22)
EQUIPMENT: Fish tank with water and one fish, TV camera on tripod.
SETUP TIME: 10 min.
---